Golf Slice
Shot after shot you hit to the right a golf slice and you can't seem to figure out what causes it.

It can be frustrating to see these shots continually go to the right, as well as the loss in distance that results from it, but no need to give up.
There are many cures for the slice. Before you can correct the golf slice you need to first understand the root cause.
A slice occurs from the clubface coming from an out to in path with the clubface being extremely open to the path.
The D Plane states that the ball starts 85% to where the face is pointing at impact and curves due to the remaining 15% from the path.

That's why the ball starts closer to the line where the face is pointing at impact and then curves off-line due to the path.
You may even get an occasional pull where the face is aiming left at impact matching the path resulting in a straight shot missing left of your target. Below you will find an example of a pulled shot.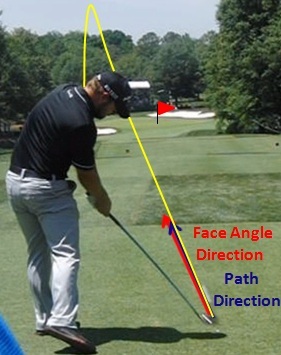 Whenever there is a pulled shot left of the target it is due to the club face at impact matching the club path. When these two match up, the inevitable result is a pull.
Faults that Encourage a Slice
Setting up with a closed alignment being shoulders aimed left of the target influences an out to in path
Taking the club too far inside which is caused by over-rotation in the takeaway, which in turn causes a shift of the club too far inside on the backswing to coming down too steep on the downswing
A poor shoulder and hip turn during backswing
Wrists cocking too much which can delay the downswing sequence sending the club outside on a steep plane angle
Ball position is too far forward
Left leg straightens too quickly in downswing
One of the leading causes of a slice results from spinning the shoulders and hips in a rounded motion from the top of the swing, and not straightening the right arm quick enough

With all of these faults being an influence to the path just remember that there are many other combinations that can influence the path to come from the outside.
Your ball flight will not lie to you, therefore, if the ball is curving to the right you know it was in result of the information you gave it at impact.

Check out fixing golf slice for drills on how to eliminate that slice for good!