Beginner Golf Tips for Getting Started
Searching for free beginner golf tips can be frustrating when it comes to deciding which ones you should use but it doesn't have to be. My goal with this golf for beginners section is to provide you with all of the aspects needed to get you off to a fast start in this game.


Beginner Golf Tips - Equipment
Before you can even play the game of golf you are going to need some golf clubs and golf balls. If you do not already own a set of golf clubs then you will need to borrow someone's or buy a starter set. The maximum amount of clubs you can have in a bag is 14 and below is an outline you can follow in assembling your starter set.

What to look for in a beginner golf tips starter set:
Fairway Woods (3-Wood, 5-Wood)
Wedges (Sand Wedge, Lob Wedge, or Gap Wedge)
Driver- The loft of the driver should be anywhere from 10-13° of loft for an ideal launch angle. The specification that will help you know what loft you should use will be the shaft flex. To help you figure out which shaft flex you are fitted for, you can use a swing speed measure device such as the PowerMeter or use the chart below as an estimate.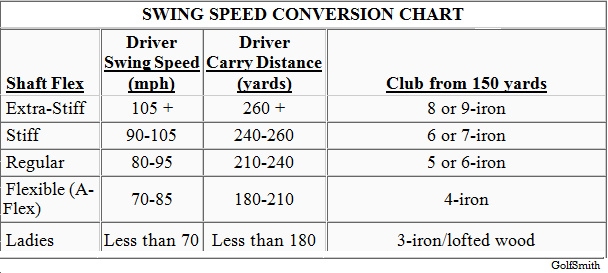 The lower your swing speed, the higher the loft you should choose. For example, if your swing speed is around 70 mph then a 12 or 13° loft will be suitable. If your swing speed is around the 90 mph mark then a loft of 10 or 11° will be good.
Another factor to consider in choosing a good driver would be length. Most club manufacturers sell drivers at 45.5-46 inches but try to find one in the range of 44-45.5 inches range. If you can't find one then you can always take it to a local club pro and have it cut down to the proper length. For ladies you should look into cutting your driver down to 41.5-43 inches.
By cutting down your driver you are making it easier on yourself to hit the ball in the sweetspot.  To see how off centered hits affect your distance with the driver, visit Driver Tips.
Fairway Woods- The loft of the 3-Wood for a beginner should be 14-16° and the 5-Wood 17-20°. For ladies 15-17° for the 3-Wood and 18-20° for the 5-Wood.Most fairways woods are made out of steel, but it isn't uncommon to see some with composite materials or titanium. This allows for perimeter weighting and a lower center of gravity which equates to a larger sweet spot.
Hybrids- These utility clubs were designed to help the higher handicappers, ladies, seniors make better shots than they would with longer irons. They are more forgiving and usually add more distance due to the increase of loft and lower center of gravity.
Since hybrids are more easier to hit it is recommended that you get a set that has hybrids to replace your 4 and 5 irons. A 4 iron hybrid's loft should be 22-25° and a 5 iron hyrid's loft 26-28°. For ladies the 4 iron hybrid should be 25-27° and a 5 iron hybrid's loft 28-30°.
Irons- The one quality to look for in a set of irons for the beginner is having a large sweet spot. This can be achieved through iron sets that have weight moved to the perimeters of the iron. These irons are referred to as "cavity backs" due to the weight behind the clubface being moved to the perimeters of the head.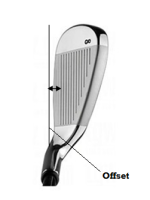 Most cavity back irons are cast but if you can find a set that are forged then you will be able to adjust the lie angles later when needed. Another feature you should look for in cavity back irons is some offset. This means the face of the iron is set back a little from the shaft which can help squaring the face.
Wedges- Considered very important clubs in the bag, wedges come in a variety of lofts. For a Pitching Wedge look for lofts between 47-49°, Gap Wedge lofts between 51-53°, Sand Wedge lofts between 55-57°, and finally the lob wedge lofts between 59-61°.
Some other important factors you would need to learn about can be found in Wedge Bounce

Putters- Finally, the most important club in the bag, the putter. Most beginner sets these days come with a mallet putter but if you can try and find one that doesn't then you will be doing yourself some good. Most of these putters come with too much loft and is difficult to move due to excessive weight. You may be required to search for a putter that doesn't come with the set but it is well worth it considering the putter accounts for as much as 40% of all strokes in a round.
If you are of standard height, look for a putter that is length-wise around 33-34 inches (ladies 32-33 inches) if you are of average height. If you are taller than average then adding an inch or 2 will be fine. As for loft it is critical that you find a putter that has a loft between 2-3 degrees since this has been proven by David Orr to have the best results from his studies. Some other suggestions would be to get a putter with a lie angle of 69-70° and to find a head shape that is simple.
Some putters I would recommend are:
Guerin Rife Putter
2 Degrees of loft, 70° lie angle, option of 33 or 34 inch length
Yes! Golf Abbie Putter
2.5 degrees of loft, 72 lie angle, option of 34 inch length

Yes! Golf C-Groove Putter
2.5 degrees of loft, 72 lie angle, option of 34 inch length
As for a starter set I would recommend buying either of the following:

TOP FLITE Top Flite XL Boxed 13 Piece Set
This set offers a 460cc Titanium driver, Fairway Wood, 4 Iron Hybrid, 5 iron Hybrid, 6-PW cavity back irons, and a putter. Also, included is a lightweight stand bag, two head covers and a rain hood. This set is available in right-handed and left-handed sets.

AFter reading reviews of this set being compared to Callaway sets, this is a must buy for the price. This set offers a 10.5 degree 460cc Titanium Driver,
3-Wood, 4 Iron Hybrid, 5-PW cavity back irons, Sand Wedge, and a Mallet Putter. The set comes with a lightweight stand bag and matching headcovers.


You can buy a majority of these beginner golf sets or find similar sets at golf superstores such as GolfSmith, Dicks Sporting Goods, Golf Galaxy, Edwin Watts, or Sports Authority.
If you are wanting to take up the game in a serious manner or you believe you have reached the point where you're ready to take the next step then consider getting Custom Fit Clubs.

Beginner Golf Tips - Golf Lessons
After you have some clubs it is now time to invest in some lessons if you want to start off in this game on the right foot. Golf can be hard and take twice as long to learn if you don't seek professional help.
To help you find a local teaching professional you can search using either of the following:

PGA Find a Instructor

United States Golf Teachers Federation


Some beginner golf tips questions you should consider asking when contacting them would be:
"Do you offer weekly or monthly golf clinics?"
"Do you offer any specific game improvement plans?"
By asking these types of beginner golf tips questions you can get a feel for the approach the instructors will take in giving you lessons. Be sure to not just contact one Instructor. You will benefit more by contacting a couple and therefore, you can compare and choose the one you like the best.
For more information on what to expect visit Golf-Lesson.


In addition to getting the right clubs and lessons you will need to know some of the basic rules and etiquette in the game. Follow my Basic Golf Rules and you will have everything you need to play the game effectively.

I hope these beginner golf tips will have you on the road to success. If you have any further beginner golf tips questions just head over to my Golf Questions page and ask any beginner golf tips question you would like there.
Return From Beginner Golf Tips to Bo Knows Golf Tips