My Passion for the Game of Golf
I was 5 years old when I was first introduced to the game of golf. I can still remember that first day my dad and grandpa took me to the golf course to have me play a par 3 from the ladies tee.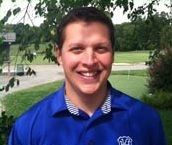 It was a bitter sweet experience to hit that first shot off the tee and watch it sail about 70 yards down the fairway. I was hooked.
I continued to play the game of golf throughout my childhood and teen years. I played a lot of tournament golf and had my fair share of tournament wins. I made my high school golf team my freshman year and ended up having a successful tenure throughout high school.
I was named MVP my junior and senior years as well as being named to the all-conference team. It was my junior year that we made the state championship and was only the 2nd time in school history that any team has made it.
It was during these years that I started to develop a passion for teaching the game of golf. I loved helping out my teammates whenever they asked for help.
It was towards the end of my junior year while I was working with Andree Martin that I learned through her of David Orr. Orr, who is the Director of Instruction at Campbell University's Professional Golf Management Program, seemed to be the next resource needed for me to further my education in teaching the game of golf.
After doing some research and finding out Campbell University had a PGA Golf Management program I was sold. Campbell was the only school I had applied to and was glad to be accepted.
Excited to have the opportunity to continue furthering my knowledge I hit the ground running studying everything I could. My Sophomore year I was Orr's personal assistant in helping him teach player development classes through the PGM program.
Since then I have been certified by The Golfing Machine and AimPoint Technologies.
In addition, I have also studied and worked under Frank Mantua (U.S. Kids top 50 Instructor) and John Dochety (Medicus instructor, MORAD).
For the first two summers of my college journey I worked at US Golf Camps as a lead putting coach and instructor. It was during this time that I honed my skills for teaching juniors in addition to learning under Frank Mantua.
For my last internship I spent time at Lakewood Country Club in Tullahoma, TN with John Dochety. John who is the Head Professional introduced me to a wealth of information related to the golf swing. It was during this time at Lakewood that I gave multiple private lessons that helped me gain experience in teaching.
Currently, I am working at Rick Murphy Golf Academy in Greensboro, NC as the General Manager and golf instructor. It is through these valuable experiences that I am able to apply my understanding of the game and teach it to students.
I believe there is no single correct way to swing a golf club, rather many ways, and the secret to this game is repeating a motion with a consistent pattern that will produce results.
It is my mission and vision for this site to pass along information to you that will not be just tips but game changing guidelines to follow to help you reach your peak potential in this game of golf.
Sincerely,
Bo

John 3:16

About this Website
I know you came to this website to learn all about golf but I feel that if I didn't tell you about Site Build It I would be hiding something from you.
A couple of years ago I was searching long and hard on what website hosts I could use to build my golf tips website and to help me achieve financial freedom. When I came across Site Build It I was blown away with what I found.
I thought to myself this is too good to be true. Unlike other web hosting companies, Site Build It gives you all the Tools along with an Action Guide at no additional charge that can help any beginner or experienced person succeed with their website.
Even if you have no experience whatsoever with building a website like me, Site Build It makes it easy for anyone to do.
Just check out this video on Elad who created a website with Site Build It on his hobby, and after only 6 months he was making $2,000 a month

Do you have a hobby, passion, or a business that needs a boost?
Site Build It makes it possible for you to deliver your knowledge to others through its impressive reputation with helping websites top the Search Engines. Site Build It has an impressive resume with 62% of its clients ranking in the top 3% of all web sites on the net.
Check out this short video:

Give it a Shot
If you would like to give Solo Build It a try you can do so worry free. Solo Build It is completely risk free and will give you a full refund if you feel it is not for you.
To find out more on how Solo Build It can help you achieve your dreams head over to SiteSell to learn more or if you have specific questions you would like to ask then be sure ask them on their Question and Answer Site.


Return From My Passion for Game of Golf to Bo Knows Golf Tips