How to Get Custom Fit Clubs
Having custom fit clubs can be the difference between a good shot and a bad shot. If you are playing with clubs that are not fit then you are compensating for ill-fit clubs and that can be harmful to your swing and game. Since every person is unique your golf clubs should also be unique.
Golfers come in all sizes, shapes, and forms so choosing your clubs off of the rack is going to decrease your chances of your clubs being fit properly. If your goal is to reach your peak potential in this game then custom clubfitting is a giant step toward that goal.
According to a recent study performed by Sports and Lesiure Research Group, "92% of golfers who received a premium fitting using a launch monitor reported immediate benefits while 87% of golfers that received a basic fitting reported immediate benefits."
If those statistics aren't convincing then these may be. "80% of golfers who were custom fit reported improved accuracy, 68% of golfers reported hitting the ball further, 67% said they became better players with their new custom fit equipment, and 60% reported they are enjoying golf more than before."
If you would like learn further about the results from this study you can visit Custom Fit your Game.

As you can see by receiving a club fitting you can reap huge benefits. If you would like to take advantage of getting custom club fitted you will need to do a few things first.

To get Started you will need to:
Determine what your budget is so you can get an idea on whether to purchase brand name or a generic brand full sets (price range for brands can be $500-$2000 while generic brands can yield $300-$1000)
Contact a local teaching professional or club professional who is experienced in club fitting to do the fitting
Make sure the fitting session involves hitting balls which increases the accuracy of getting properly fitted
Find out the fee the professional will charge for the fitting session (it may be free if you buy the clubs through the professional)

If you are unsure of trying out a fitting session or you know of the brand you would like to buy from then you can check a major brand's website for upcoming demo days. These can be beneficial because a majority of the time it is free of charge and you can have access to a launch monitor as well a qualified fitter.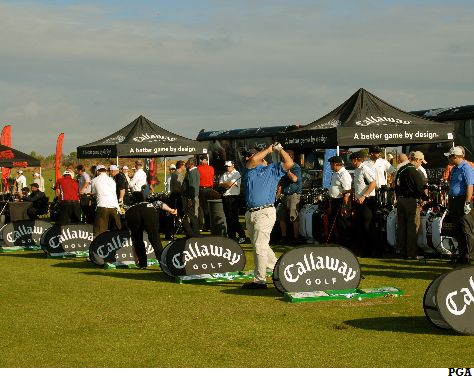 Although getting a premium custom club fitting is ideal, it is ok under some circumstances to get a basic club fitting. This is usually the choice given by local professionals/teaching professionals since owning a launch monitor is very costly.
How to Custom Fit your Golf Clubs
If you would like to do the fitting yourself you can take advantage of some online services, but the downfall is that you will not actually be hitting golf balls.
GolfSmith provides a system called SmartFit which is pretty beneficial to the user as long as you know the brand and model of the club you would like to buy. It provides a custom fitting based on the information you input on your height to floor measurement, hand size and longest finger length, driver speed, average carry distance and roll, desired trajectory, and swing tempo.
Another service you can use that is a little more broad is PineMeadow's Custom Fitting Wizard. The information you provide in this tool can be helpful for a purchase of brand name clubs or generic brand clubs based on the result of shaft length and shaft flex.
Whichever route you choose to go with getting your next of custom fit clubs be sure to get your clubs checked periodically after every 6 months especially if you get a set of irons that are forged. Forged irons have a tendency for their lie angles to bend over time in different directions, even by as little as ½ to 3 degrees. When this happens compensations will have to develop in order for you to hit a straight shot.

Please see How Lack of Clubfitting can Lead to Compensation.

I hope the next set of clubs you choose will be a set of custom fit clubs whether it be all or just a couple of them. If you have any questions regarding clubfitting feel free to ask me in my Golf Questions section.
By playing with custom fit clubs you should see a huge difference in your game!
Return from Custom Fit Clubs to Beginner Golf Tips