Which Golf Clubs Suit Me?
by Don DeMarcus
(Crossville, TN)
Hello,

I would like to ask a few questions on what clubs to own and how would you determine this. Also could you explain what a few of the terms mean that I frequently see on sites that sell various brand of clubs.

Let's start with the terms:
1. Off-Set
2. Senior Flex
3. Draw (I see basically on drivers and fairway woods).

As I used to play at least once a week back in the early 1990's I had a spell of many years where I did not play but recently got started again. Using a mixed bag of various clubs and brands to get started again I am ready to purchase a complete set.

Since I am not as young anymore my swing has considerably slowed and I find I am pushing the ball to the right and occasionally it will slice drastically. I do understand that my swing is the problem but it is one that I always had. So with that being said is there a particular set of clubs that can help me out???

I interpret the term senior flex as the shaft with a little more flex to help compensate for the slower swing. Is that correct?

I also understand that when I read ads with the off set and draw listed in them it is to help control the slice but what are the advantages of either and can clubs be purchased with both designs?

Last but not least I have also seen where clubs can be purchased with + 1" length on them. I feel that could be beneficial to me as it seems I have to bend too much and the standing back up during the swing is also causing problems.

As you can tell I have many issues to correct and would like to know if a particular club design could help. I am getting close to 60 years of age and would like to enjoy the game more without continuously trying to teach myself. Hope that makes sense as I know I will not be a professional golfer but if the aid of a particular design would help then I am for it.

I have looked at sets from Adams and Tour Edge that offer the draw, off set, hybrid clubs and other features but it gets confusing. I do like the idea of hybrid clubs but I believe I like the transitional hybrid irons better without having to use clubs that look like smaller versions of the 5 wood. The 3 and 4 clubs are rarely used in my game so these hybrids would probably not be necessary. For that distance I would just use the 5 wood.

The sets I have been looking at are the Adams Idea Tech V3 and the Tour Edge JMAX Gold Bazooka. There may be other brands that I have not seen them as it appears these brands design their clubs to help the senior (not so good) golfer.

Any recommendations would be greatly appreciated and if there are any other brands you can suggest I would look at them as well. I would like to gather more information before making a purchase.

Regards,

Don DeMarcus
Crossville, TN


---
Don,
Thank you for the question of what clubs will best suit your game. I will start as you requested by answering first the 3 terms that you mentioned.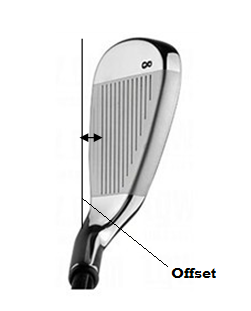 Offset Irons
- This means the leading edge of the iron is set back a certain amount of centimeters from the hosel or shaft of the iron. The reason there is offset is due to the belief that it allows more time for the face to return to impact square. It is designed this way to help golfers who slice the ball to reduce or eliminate it.
Senior Flex
- Is one of the more flexible shafts. In total there are 5 total shaft flexes. They are listed in order from least flexible to most flexible as X(Extra Stiff), S(Stiff), R(Regular, A(Senior), and L(Ladies). Each shaft is designed for the swing speed a golfer employs. Below is a chart that should help you determine what shaft flex is correct for you.

Draw - This is a new technology setting that has been added to woods and drivers with the option of setting the face closed to promote a draw. For example, on the new TarlorMade R11S Driver you can set the face closed 1.5° or 3°.



To choose the correct shaft for your swing you will need to figure out what your current ball flight and distances are. If you don't fly the ball further than 230 yards and hit it right then it would be advisable to use a Senior shaft.

The reason you should choose a softer shaft is because it is meant for slower swing speeds. In addition, it will force you to keep your swing at a slower speed if you have a tendency to swing too fast.

As for using a longer shaft I honestly can not answer without seeing a video of your swing. However, if you are over 6'1" then it would be encouraged to use a longer shaft.


If you don't want to correct your swing and instead want to try buying clubs for your current swing then I would look at the following sets below.

.













Tiger Shark Senior's Hammerhead Full Set


299.99


Tour Edge Senior's Bazooka JMAX Golf Set


799.99




Adams Senior's Idea A12 OS Full Set


899.99




By choosing this route you should improve by using the latest technology but please realize that if you had chosen to work on your swing with an instructor you would have increased your chances of improving your game.
Whichever route you decide to choose I hope you will find a way to enjoy the game. If you have any questions concerning the recommendations, please fill out the comment form below.
Thanks,
Bo