Developing Strategy With Putting Speed
I'm sure you have heard all the expert's opinions when it comes to what putting speed you should use when putting on greens. Out of the many theories I bet Dave Pelz's 17" past the cup comes to mind or maybe Geoff Mangum's 2 ball revolutions from the front of the cup.
What do these two have in common? A consistent delivery speed.
By developing a consistent delivery speed you are making your life easy. It is one major skill that all tour pro's have in common. With a consistent putting speed you are able to develop a good idea on how much your putt is going to break.
For example, If you had a left to right breaking putt from 10 feet and used a 10" past the cup delivery speed your putt would break a medium amount.
If you were to use a firmer speed say 24" through the cup you obviously took some break out of it. Vice versa If you used a slow die in the hole speed then your putt is going to break the maximum amount.
The key here is to figure out what style of putter you are. Are you a player that likes to be aggressive or are you more conservative?
To help you choose lets take for instance the cup's width of 4.25" and determine the maximum amount of lip in you will have at the speed you are deciding upon.
For an aggressive speed such as 17-20" past the cup you just narrowed your entry point of going into the cup to about 2.50". As for a a very conservative speed of 6-8" your entry point is pretty close to 3.75".

Here is a picture of 3 different speeds: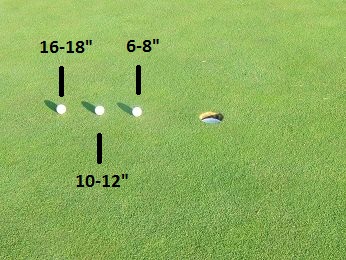 Whatever delivery speed you decide upon it is now time to move on to working on developing that consistent speed. To help you become consistent with your speed, please visit the 2 Ball Drill in the Putting Drills Section.
Once you have developed a consistent speed you will then be putting with a strategy.
Estimating Time of Arrival for Putts

In order for you to determine your delivery speed you must first know the break of the putt and whether or not it is downhill or uphill. You will need to know a little bit about Green Reading before you can determine the speed of the green and how much time the ball will take to roll from your putter face to the hole.
David Orr used an excellent visualization for this by comparing the timing of the roll of the ball to the hole to the Estimated Time of Arrival on a GPS. For example, if a putt is downhill, the ball will arrive to the hole slower in time vs. a putt uphill.
To help you to understand this concept please watch the video below.
By understanding the difference in speed for an uphill and downhill putt you are now equipped with the knowledge to allow more break for downhill putts and less break for uphill putts.
For every putt that you look at, you will now be able to read it due to the speed you are going to deliver the ball into the hole. By using this approach you are more likely to sink more putts and have fun doing so!

Return From Putting Speed to Putting Tips

Return from Putting Speed to Bo Knows Golf Tips