Proper Golf Ball
by Gene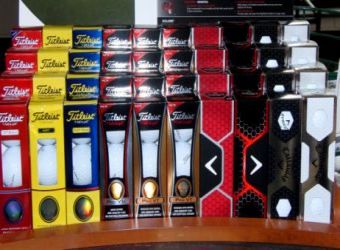 I am 66 but a young 66....how would I know which is the best golf ball for me? Each brand makes it's own claim to be the best but I am SO confused!

Thank you,

Gene


---
Gene,
The proper golf ball for a person should be based on the individual. I would recommend getting ball fitted and Bridgestone's Golf Ball Fitting Challenge is the only one that does personal golf ball fittings.
They conduct ball fittings using a "Science Eye Launch Monitor" that measures your ball speed, launch angle, and spin rates. After you hit a few shots one of the Bridgestone representatives will give you your results along with comparisons of each ball and then will recomend which ball you should play.
To find an event nearest you can visit their
Bridgestone Fitting Schedule
.
Titleist also has a golf ball selection guide where you are fitted based on the answers you provide in its interactive tool. Once you have a recommendation from Titleist you are then given in step 2 an on course evaluation where you can grade your performance with the recommended and alternate ball.
For more information visit
Titleist Ball Fitting
.
If you would like to find a ball from a more expanded list you can take a simple 6 question survey where you add your total score to find which brands of golf ball fit your score range. The only downfall to this buying guide is that it was made 3 years ago but a majority of the balls on this list are still in the market today.
To find out your total score visit
PGA Buying Guide for Balls
Once you have narrowed your search for the proper golf ball down to a couple of golf balls, you should then go play a round or two hitting each ball with different clubs. Don't forget to putt with each golf ball since putting accounts for roughly 40% of your scoring.
If you need to you can use
Titleist's Scorecard
as a reference.
I hope this information helps you on your quest to find the proper golf ball.
Let me know if this helps.
All the best,
Bo