How to Cure the Shanks
by Dillon Shoe
(Trinity, North Carolina)
Hey Bo, I've spent a lot of time on your site and wanted to compliment you on the professionalism it exhibits.

I'm a scratch golfer but lately I have developed a case of the shanks. I don't know if I'm thinking too much or simply lost my swing.

I was wondering if you had any tips or drills to help me correct this disastrous "disease." I've got a couple tournaments coming up and would love to correct this problem before I send some hosel rockets down the line to my playing competitors on the range.

Thanks in advance.




---
Dillon,
Thanks for the compliment. In response to "how to cure the shanks," I am going to quote a famous quote.
"Put your change into your left pocket. Now, tie your left shoe in a double knot. Turn the hat backwards. Turn your hat around. Take
a tee and stick it behind your left ear. Take a ball and hit it up the fairway." (Tin Cup)
In all seriousness, you first need to understand why the shank occurs. The main reason a shank occurs is due to losing the feel of the sweetspot.
When you transition from the top of the backswing and start the downswing, a shank will occur when you substitute the "lag of the
hosel instead of the sweetspot." To fix this, you will need to emphasize Pressure Point #3 (your right pointer finger).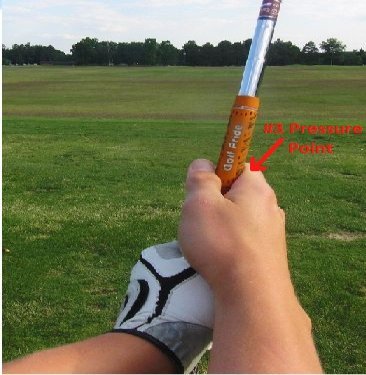 When you put an emphasis on pressure point #3 you will start to feel the sweetspot from the top of the backswing all the way to the ball. This is essential to feel because this is what controls your release sequence into the ball and allows you to make proper contact.

What needs to happen is that you need to re-find that feeling. You can do this by doing slow motion swings by bringing the hosel to the ball and doing several motions of bringing the sweetspot to the ball.

Be sure to pay attention to where the pressure of the pointer finger is located at impact. If it feels underneath (right hand turned)then you could be substituting the lag of the hosel instead of lagging the sweetspot.

One way or another you are going to have to trick your mind into feeling the sweetspot and not the hosel. No matter the many positions or faults you may have, if you are feeling the sweetspot you should eliminate the shanks.

All the best,

Bo