Fix Golf Hook Drills

In order to fix golf hook you will need to understand what causes the golf hook. Once you understand why the hook happens, you can make an educated decision on the following drills that can help you.
Don't Hit the Box
This fix a golf hook drill derived from Andy Plummer and Mike Bennett is great for the golfer who swings a a path too far in to out.

Address ball with a middle iron
Place a box between stance line and ball
Place the box to where the shaft will just miss it on proper takeaway
Make some swings and then hit some balls without touching the box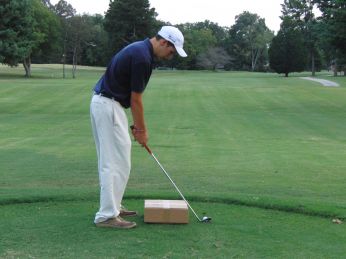 Plummer and Bennett claim that if you stand up too fast right before impact, it causes the path of the club to approach too far in to out. If you stand up too quickly your club will hit the box. If you visualize swinging your hands far away from your head during the downswing, it should help to fix the hook that occurs.
Karate Chop the Right Arm to Fix Golf Hook
Assuming that your left arm is not diving straight down and your right arm is becoming stuck, the karate chop drill is also excellent in eliminating the duck hook.

Use any club and go to top of backswing
Notice that you're right arm is close to 90 degrees at this point
As you start the downswing process, immediately feel the right elbow staying stationary against rib cage
With the right elbow stationed the right arm should straighten to about 160 degrees so that it brings the club down to where it is parallel to ground ready for release
Simply now just uncock your left wrist and roll into impact
When the right arm becomes too flexed or the distance between two elbows narrow then there is a good chance your upper spine will tilt away from your target and cause the path to come from inside.

Staying Centered to Fix Golf Hook
One of the biggest problems golfers face with an in to out path is the belief of shifting the weight to the back foot. Doing this will likely set your upper spine tilted away from target influencing you to slide to your back foot.
To fix this you will need to stay centered.

Take your address with a club in front of a mirror
Start the backswing making sure your upper center of gravity (shirt button) and lower center of gravity (belt buckle) remain stacked on top of the other
What you should feel here is that your spine is tilting towards target and not away
To know if you did this correctly your right hip should be higher than your left due to the proper knee action consisting of the left knee bending and right knee straightening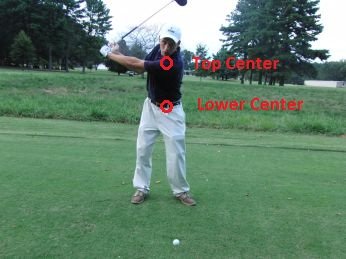 Ensuring that you stacked your centers correctly your chances of coming from inside will now be slim.

Train the Eye to See Sqaure
Paint a line perpendicular to your stance line
Set the club on the line to check if the leading edge is in line with the painted line at right angle to your intended target
Check this several times by looking back and forth from clubface to target
Once accustomed to the change hit some balls and pay attention to the starting direction

By improving your clubface aim at address you are then lessening the chance to bring the clubface back to impact closed.

Hopefully by following these fix golf hook drills you won't be spending any more time in the woods until hunting season.

Return From Fix Golf Hook to Golf Hook
Return From Fix Golf Hook to Bo Knows Golf Tips